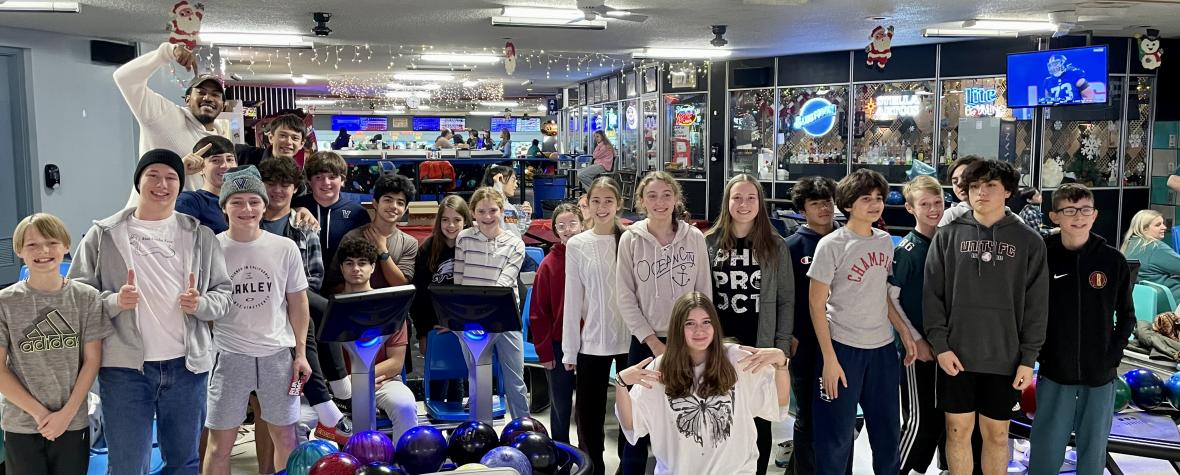 Youth Ministries seeks to connect youth grades 6th -12th with other Christians to nurture them in their faith, encourage them to share Jesus Christ with non-believers, and help them serve others, thereby glorifying God with all their lives. The ministry takes the whole student into consideration, fostering relationships not only with the students but their families as well, with the hope of the community developing lifelong "family" bonds.
We strive to be a friend, resource, and blessing to our NPC families, cultivating an environment with the ideals of Intergenerational Ministry as our guide. Programming is used as a vehicle and not the destination. The destination is that glorious relationship with Christ our Lord.
Contact Juwan Williams, Director of Youth Ministries, at jwilliams@narberthpres.org.
YOUTH SUNDAY SCHOOL
Youth begin in the 9:30 a..m. service for worship and then are dismissed to classes upstairs in the Youth Room.
 
YOUTH GROUP
Middle School Youth Group! Middle School Youth Groups meets each Wednesday evening from 7:00pm-8:00pm in the Youth Room. Each week offers games, lesson, and fun! All 6th, 7th, 8th graders are encouraged to attend and bring a friend!

High School Youth Group! Each Sunday, all 9th-12th graders are encouraged to come enjoy time together from 7:00pm-8:00pm in the Youth Room. Join us for a time of community, theology, and an on opportunity to know, live, and share your faith!
--------
NEW Youth Girls Group
All Youth Girls (6th-12th grade) are encouraged to attend a special Kickoff Event just for them on Sunday, January 22nd.
We will meet in the church gym directly following worship and walk to the McGrew's home, here in Narberth from 11:00am-12:30pm. Together we will enjoy fellowship, food, and focus on discipleship. Please RSVP by Monday, January 16th to Lisa Hoffman (Lisa.hoffman1@verizon.net) or Danielle Kauffman (dkauffman@narberthpres.org). 
--------

Save the date: ALL Church Retreat! - "LIFE TOGETHER"! All ages are encouraged to attend the NPC All-Church Retreat taking place in Sandy Cove, MD on May 12th, 13th, and 14th! We belong together and we need each other so join us for an amazing adventure away building our lives with each other and with Jesus! Please reach out to Danielle (dkauffman@narberthpres.org) with questions or to register!
RESOURCES FOR PARENTS:
AXIS - Connecting Parents, Teens & Jesus in a Disconnected World - Parents of children and youth are encouraged to take advantage of these FREE tools that will help guide you through culture into a conversation around Jesus. You can sign up using the web address for FREE (usually a $100 yearly fee). Please note Narberth Presbyterian Church is in the Heritage Presbytery. Please check it out this valuable material. If you have any questions please contact Danielle or Lisa. https://axis.org/eco-family/

Input and suggestions to be sent to Youth Elder, Jan Kennedy.